Braised Short Rib Farfalle Pasta with Fava Beans
A hearty and flavourful dish made with interesting ingredients such as fava beans to make your beef pasta stand out from the competition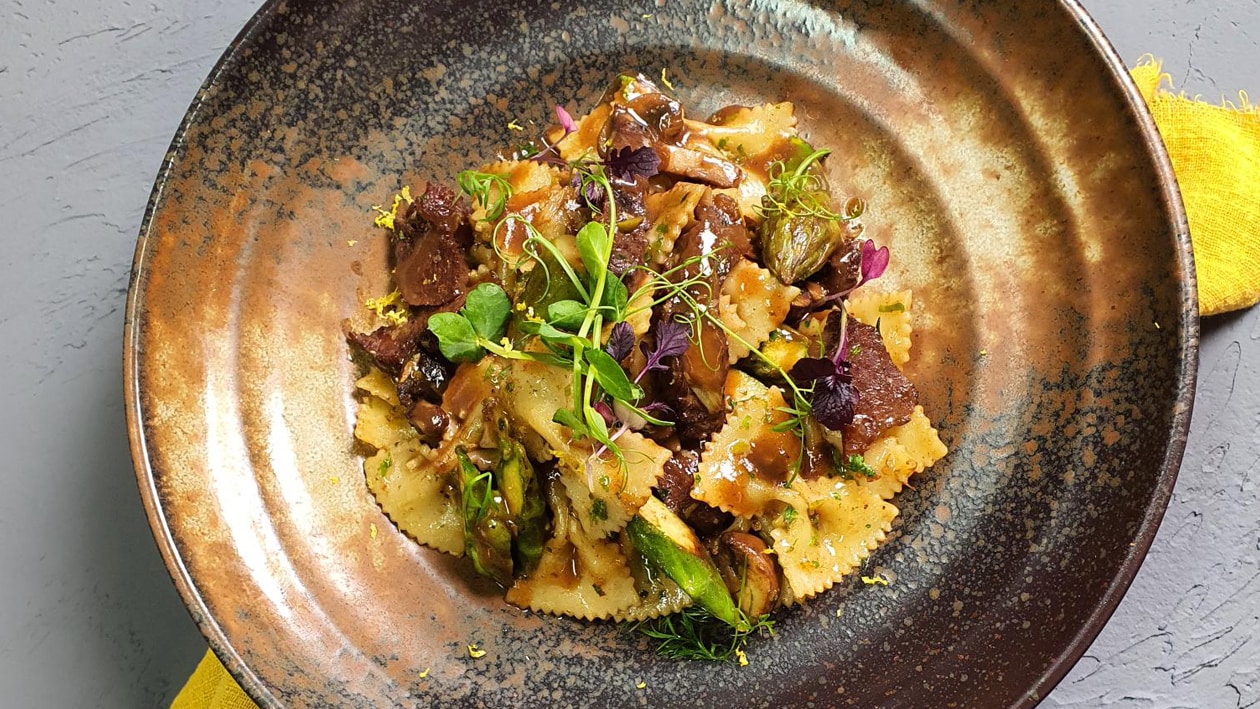 Ingredients
Demi Glace Sauce
Braised Beef Short Ribs
KNORR Demi-Glace Brown Sauce, prepared

1000.0 ml
Gremolata
Black Olives, chopped

50.0 g

Extra Virgin Olive Oil

50.0 ml
Braised Beef Ragu, Farfalle Pasta with Gremolata
Farfalle Pasta, blanched

1000.0 g

braised beef sauce

1000.0 ml

Brown Button Mushroom, cut and sautéed

200.0 g
Preparation
Demi Glace Sauce

• Mix well Knorr Demi-Glace, water and bring to boil.

Braised Beef Short Ribs

• In a hot pan, brown and sear the beef with vegetable oil.

• Add in bacon, carrot, onion and garlic. Caramelize till fragrant and brown.

• Deglaze with red wine, reduce till half.

• Add in Demi-Glace sauce.

• Pressure cook it for about 60 mins until the meat is tender.

• Strain the sauce and simmer till desired consistency.

Gremolata

• In a mixing bowl mix well all the ingredients.                                                

Braised Beef Ragu, Farfalle Pasta with Gremolata

• In a hot pan, add in mushrooms and braised beef and beef sauce. Bring to boil.

• Fold in pasta mix well and turn off the heat.

•Slowly fold in the gremolata and mix well.

• Ready to serve.