Bœuf Bourguignon with Dark Chocolate
The French classic, traditionally made with bacon, mushrooms and red wine, get a surprise twist with the velvety addition of dark chocolate. Your guests simply won't get enough of this sumptuous, decadent version of tender beef and vegetables in a deep and hearty sauce.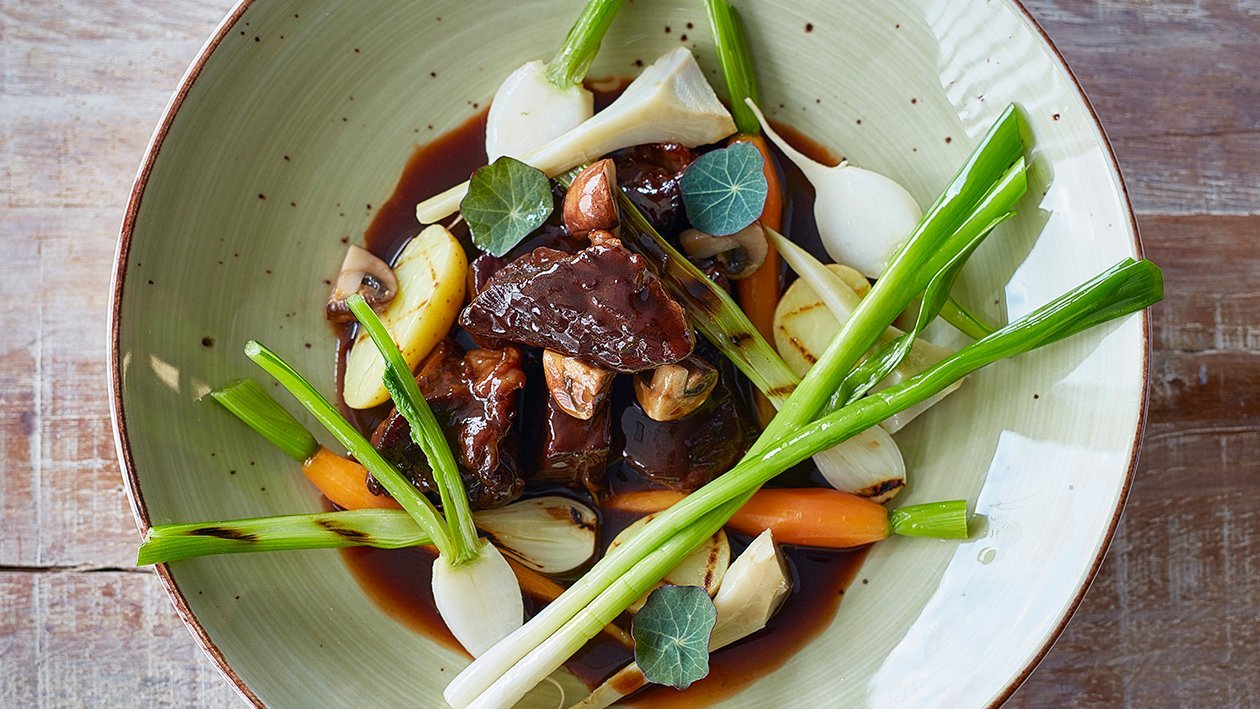 Ingredients
Demi-Glace
Bœuf Bourguignon
Beef Shortribs, cut 2 by 2cm

1200.0 g

Demi-Glace Sauce

1000.0 g
Vegetables
Spring Onions, washed, cut 10cm and grilled

200.0 g

New Potatoes, washed, cooked and cut in half

200.0 g

Artichokes, turned, cooked and cut in half

400.0 g

Brown Button Mushroom, cut and sautéed

300.0 g

Baby Turnip, washed and boiled

200.0 g

Baby Carrots, washed and boiled

200.0 g
Before Serving
Preparation
Demi-Glace

Mix well Knorr Demi-Glace, water together and bring to boil.

Bœuf Bourguignon

Brown and sear the beef with vegetable oil.
Add in bacon, carrot, onion and garlic. Caramelize till fragrant and brown.
Deglaze with red wine, reduce till half.
Add in Demi-Glace sauce.
Simmer for about 3 hours until the meat is tender.
Strain the stew.
Finish the sauce with dark chocolate.
Bring the meat back in the sauce.

Vegetables

Prepare the vegetables as mention above.
Set aside, prepare for plating.

Before Serving

Place up beef stew, add in vegetables and potatoes.
Garnish with parsley.
Ready to serve.