Creamy Chicken with Basmati Pilaf Rice
Creamy Chicken with Basmati Pilaf Rice is the ultimate comfort food. Tender chicken mingles with velvety goodness to create a hearty dish that will warm your diners' hearts and souls. You simply can't go wrong with this recipe.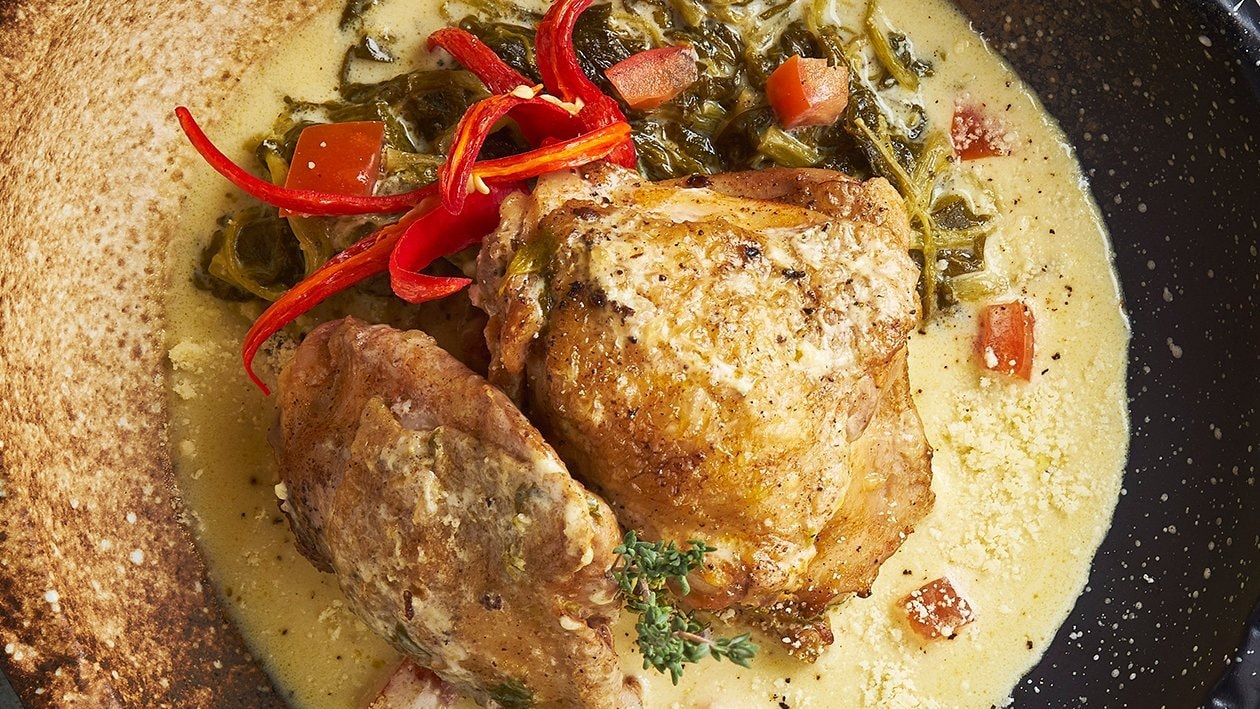 Ingredients
Chicken in Cream Sauce Preparation
Chicken Thigh, skin on and bone in

10.0 pc

Some Kosher Salt, to taste

Some Black Pepper, freshly grounded, to taste

Margarine, divided

3.0 tbsp

Garlic Clove, finely minced

3.0 pc

Heavy Cream/Milk

120.0 ml

Parmesan Cheese, freshly grated

25.0 g

Juice of Lemon/Lime

1.0 pc

Local Round Spinach, chopped

300.0 g
Pilaf Rice Preparation
Onion, finely sliced

2.0 pc

Garlic Cloves, chopped

3.0 pc

Some Salt and Grounded White Pepper, to taste

Basmati Rice, rinsed and drained

500.0 g

Pandan Leaf, tied into a knot

3.0 pc
To Serve
Mint Leaf, chopped

50.0 g
Preparation
Chicken in Cream Sauce Preparation

Preheat oven to 190°C.
Season chicken thighs with chilli powder, salt, and pepper.
Melt 2 tbsp of margarine in a large oven-proof skillet over medium-high heat. Add in chicken, skin-side down, and sear both sides until golden brown for about 2-3 minutes per side. Drain excess fats and set aside.
Melt the remaining margarine in the skillet. Add in garlic and stir-fry till fragrant. Stir in chicken broth, heavy cream, parmesan cheese, lemon/lime juice, and thyme.
Bring to a boil, reduce heat, stir in spinach, and let it simmer for about 3-5 minutes until the spinach has wilted and the sauce has slightly thickened. Return the chicken to the skillet.
Place the skillet in the oven and let it roast until completed cooked through, reaching an internal temperature of 85°C.

Pilaf Rice Preparation

To prepare the pilaf rice, heat margarine in a pot, and fry onions and garlic until soft and fragrant. Add in water (to mix with Chicken Seasoning Powder), star anise, cloves, cinnamon stick, cardamom, salt, and pepper, and bring to a boil.
Reduce heat and add in rice and pandan leaves. Stir well, cover, and let it cook over low heat.
When the rice is almost dry, add in sultanas and mix well. Then, leave to cook thoroughly.

To Serve

To serve, garnish the pilaf rice with fried shallot and chopped mint leaves.