Osso Bucco with Risotto Milanese
The only way to have veal shanks is fall-off-the-bone tender, complemented with a mouth-watering white wine sauce helped by Knorr Pronto Tomato. Served with perfectly prepared risotto, the melt-in-your mouth meat and luscious marrow is the perfect way to indulge your guests.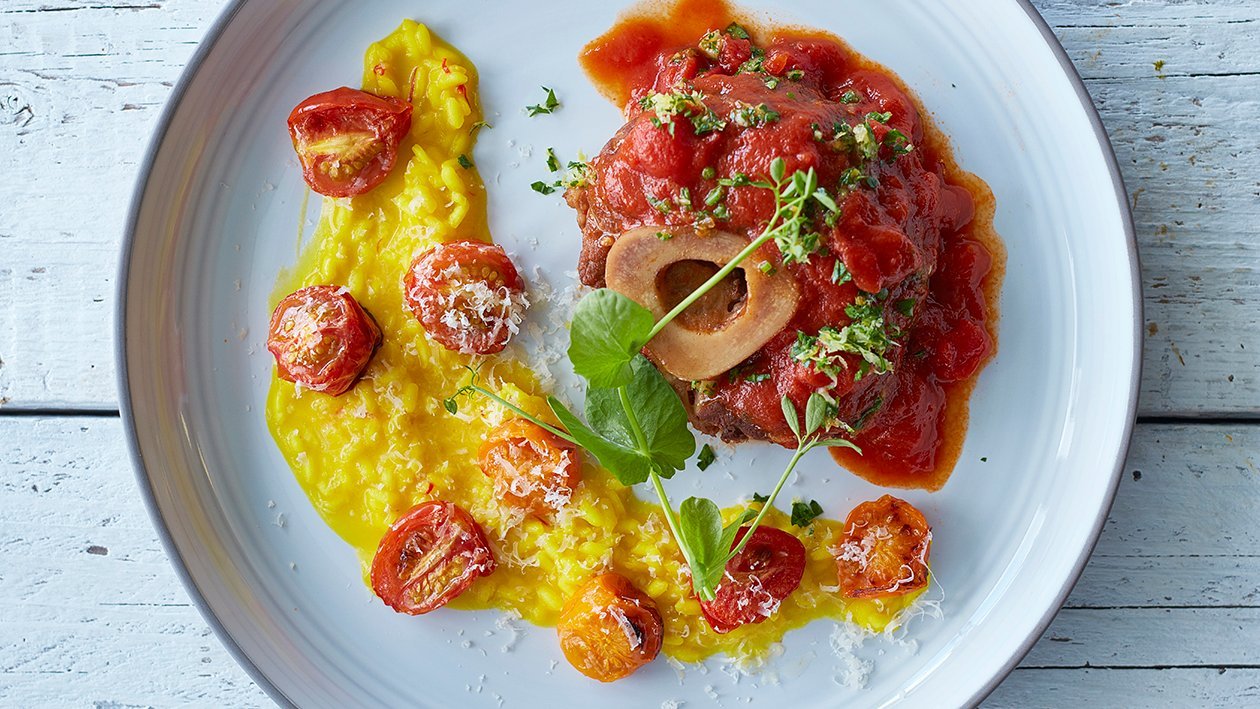 Ingredients
Osso Bucco
Demi-Glace Sauce
Sauce
Shallots, chopped

200.0 g

Carrot, brunoised

150.0 g
Vegetables
Red Cherry Tomato, cut in half

150.0 g

Yellow Cherry Tomato, cut in half

150.0 g
Risotto Milanese
Parmesan Cheese, grated

80.0 g
Gremolata
Preparation
Osso Bucco

Season the veal shank with salt and pepper.
Sear the veal shank till brown.

Demi-Glace Sauce

In a pot mix all the ingredients together and bring to boil.

Sauce

Caramelized onion, garlic and carrots.
Deglaze with white wine.
Add in tomato sauce, demi-glace sauce, herbs and bring to boil.
Put the sauce together with shanks and vacuum in a vacuum bag.
Prepare sous-vide for 6 hours on 85 degrees Celsius.
Take the shanks out of the bag and keep them warm.
Mix the sauce, sieve and season.

Vegetables

Pre-heat oven at 80 degree Celsius.
Lay tomato on a flat tray, season it and drizzle olive oil.
Let it bake for 45mins till semi dried.

Risotto Milanese

Sweat shallots with olive oil.
Add the rice and sweat it gently for 2 minutes.
Add the saffron, Knorr concentrate chicken stock and 200ml water.
Add water gradually.
Cook under low fire till rice is al dente.
Fold in butter and parmesan cheese.
When the stock is soaked into the rice and the rice is "all dente", add the butter and the parmesan cheese.

Gremolata

Mix all the ingredients together.

Before Serving

Put the veal shank on warm plate and cover it with the tomato sauce.
Plate the risotto and put the dried tomatoes on top.
Finish with the gremolata and some extra parmesan cheese.