Pork Belly with Beetroot and Honey Raspberry Sauce
Pork belly is given a special touch with sweet raspberry honey sauce and tomato caraway potato flakes. Balance the dish perfectly with a garnish of beetroots and sorrel to bring out a concoction of sweet, savoury and tangy flavours.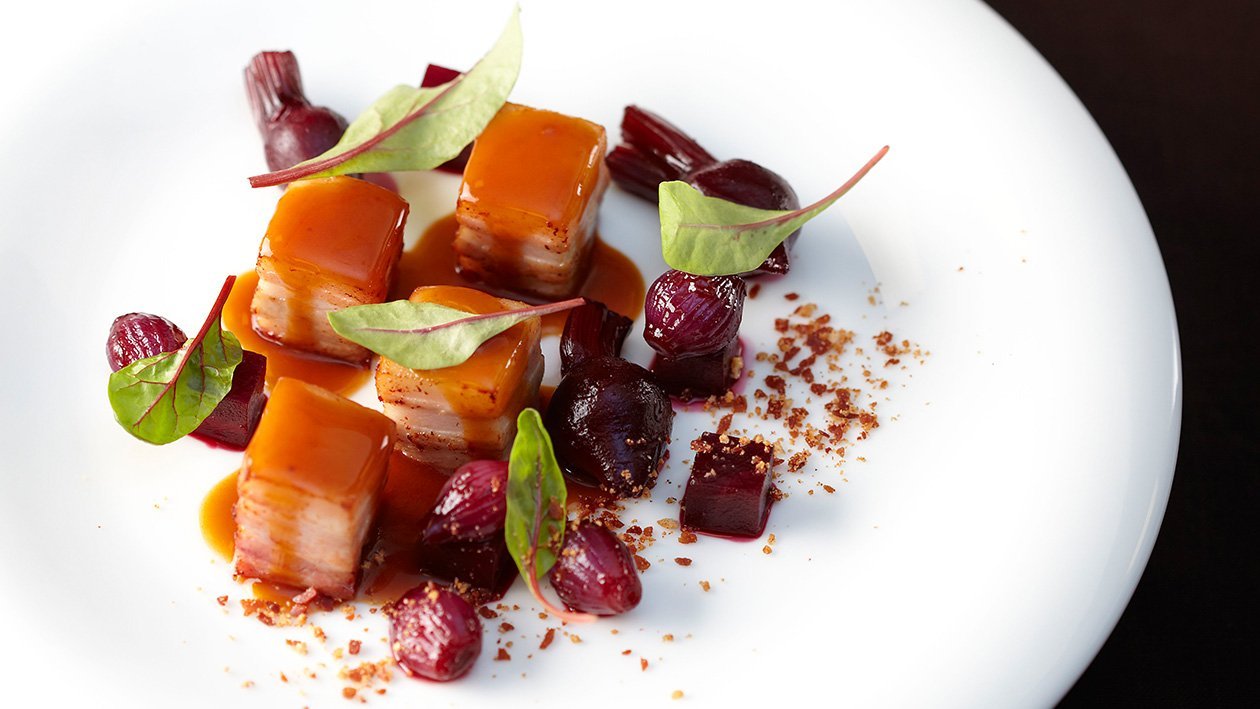 Ingredients
Pork Belly
Swedish pork belly

1.0 kg
Raspberry Honey Sauce
Raspberry Vinegar

200.0 ml
Garnishes
Baby Red Beetroots, peeled

300.0 g

Beetroot, peeled and cubed

100.0 g

Raspberry Vinegar

50.0 ml
Tomato Caraway Potato Flakes
KNORR Tomato Paste

30.0 g
Preparation
Pork Belly

Trim away the rind from the pork belly.
In a mixing bowl, mix all the ingredients to form a marinade.
Marinate the pork belly overnight and vacuum pack it.
Cook the pork belly in a combi steamer for 2.5 hours at 90 degree Celsius.
Once pork belly is cooked and is soft, compress it and let it chill overnight in the chiller.
Cut the pork belly into desired size and pan fry the skin till crispy.
Lastly baste it with butter.

Raspberry Honey Sauce

In a pot, reduce raspberry vinegar to half.
Add in Knorr Rock Sugar Honey Sauce and bring to boil.
Let it simmer for 5 mins and finish it with butter.

Garnishes

In a pot bring sugar, water and raspberry vinegar to boil.
Separate mixture into 2 pots and cook beetroots separately till soft.
Cut red vine sorrel and refresh in cold water, tap dry and reserve.

Tomato Caraway Potato Flakes

In a mixing bowl, mix all ingredients together.
Lay mixture onto a baking tray and, using half fan, bake it for 140 degree celsius for 10 mins.
Stir it every 5 mins to ensure it does not burn.
Cool down and store it in an airtight container.

Before Serving

Plate and assemble.
Garnish with red vine sorrel, drizzle raspberry honey sauce.
Lastly sprinkle some tomato caraway potato flakes.
Ready to serve.