With the holy month of Ramadhan fast approaching, halal cafés and restaurants aren't just featuring well-loved favourites like Rendang and Satay on their Ramadhan menu. Many are also adding their own twist to classics or infusing Western, Oriental and other delicious flavours to dishes – offering Muslim diners more options than ever when breaking fast.
In conjunction with the celebration, 5 top chefs joins UFS in our inaugural collaboration with the Singapore Halal Culinary Federation to create 2 recipe books: Heritage Halal Recipes and Innovative Halal Recipes. Download them now and see how you can whip up delicious Ramadhan dishes using tasty and easy-to-use Knorr ingredients.



Grilled Beef Skewers & Sauté Beef Skewers
The unique taste blend of aromatic flavours in Knorr South-East Asian Spice Paste makes it so easy and convenient to create so many delicious dishes even when you use the same ingredients! 

Beef Stew In Sweet Soy Sauce
Knorr Rock Sugar Honey Sauce lets you create the same savoury and sweet caramelised flavour every time you cook this delicious Ramadhan treat.
Knorr Rock Sugar Honey Sauce is a premium honey sauce specially designed for coating deep fried foods. Cooked from yellow rock sugar and honey, it gives food a perfect coating and an inviting sheen. Despite its thick consistency, it has a light aromatic sweetness. With this versatile base sauce, you can now create a variety of sauces without starting from scratch!
Find out more

Asian-Touch Creamy Tom Yam Pasta 

Infuse a little Thai flavour to the Western pasta to spice things up for your menu – and if your diners are up for a little more heat, feel free to add some chilli padi.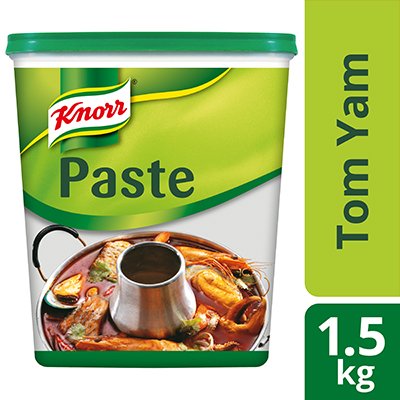 Knorr Tom Yum Paste helps you transport your diners to the streets of Thailand with its authentic Thai aroma and flavour. This is made possible as the mix of tom yam ingredients in this paste have been carefully selected based on traditional Thai recipes. Besides acting as a tom yum soup paste, it is also suitable for preparing tom yum steamboat or other spicy dishes. Knorr Tom Yam Paste also has a tub packaging that is designed to make preparation easier – simply scoop the paste and dissolve it in boiling water.
Find out more

Salted Egg Prawn On Crispy Noodles

Who says you can't be creative with halal food? Just watch how Chef Habib turns crispy noodles and salted egg prawns, distinctly Singaporean 'tze char' dishes, into a new Ramadhan favourite.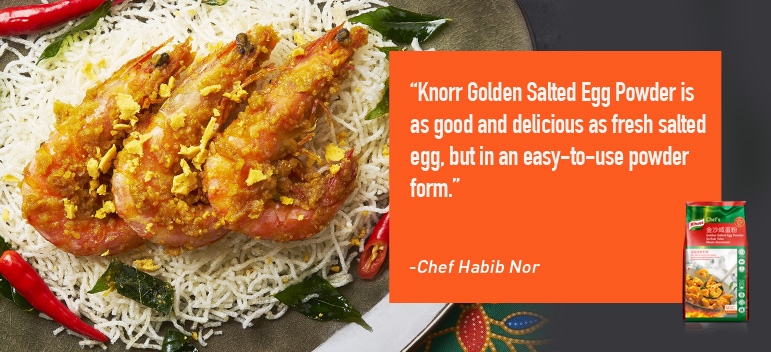 Knorr Golden Salted Egg Powder is a one-step dish base for salted egg dishes. We use real quality egg yolks and the latest drying technology to preserve their flavour, colour and aroma. Now, you can create scratch-quality salted egg dishes in just 1-step!
Find out more

Find more yummy recipes like these by downloading our full collection of heritage and innovative halal recipes now. 

Download our exclusive Heritage Halal Recipes
Check out our traditional recipes including the irresistible Braised Short Rib Rendang and the Hot & Sour Fish Stew.
Get the recipe book
Download our collection of Innovative Halal Recipes
Try our creative recipes, and give your usual halal treats a modern twist – with dishes like Asian-Touch Tom Yam Pasta.
Get the recipe book