Introduced by foreign and local settlers many years ago, Malay heritage food is a delicious symbol of the colourful Muslim lifestyle and has rightfully claimed its place of cultural significance during the festive season. And what better occasion than Hari Raya to take your diners on a trip back to yesteryear with a mouth-watering array of heritage delicacies from ketupat to lontong!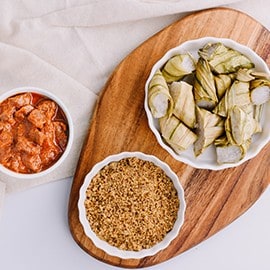 Ketupat
The traditional ketupat truly impresses the beholder when it is presented with care. Its intricate diamond-shaped weave pattern is easy on the eyes but difficult to master. The most synonymous symbol of Hari Raya, this popular delicacy is stuffed with plain rice, then boiled once the casing is complete.
Rendang
The world has the ethnic Minangkabau tribe in Indonesia to thank for the delicious rendang, a thick and savoury coconut-based gravy. An all-time favourite for the festive table, rendang is often prepared with either beef or chicken. Interestingly, rendang contains natural preservatives due to its recipe which calls for a unique fusion of ground spices and coconut milk, which gives the dish a shelf life up to four weeks.
Bubur Masjid
The light and soupy bubur masjid is a familiar presence during Ramadhan, and has enjoyed relative success thanks to a customisable recipe. The recipe traditionally calls for a flavourful combination of anise, cardamom, cinnamon and black pepper, among other spices. Its final form is heavily influenced by the spices, vegetables and meat added to the recipe, as well as the region of Malaysia in which it is prepared. Locals in Terengganu, for instance, are known to include budu (fish sauce) for a fragrant finish.
Lontong
A delectable concoction of Indonesia origin, lontong is a combination of nasi impit, vegetables and meat, served together with a savoury coconut milk base. Depending on the region it's prepared in, there are several variations. Some cooks include peanut in the gravy while others add tempeh or a hard-boiled egg. The bright orange coconut soup is usually served separate from the ingredients to avoid softening the rice cakes.