Malay cuisine is vibrant and robust, with rich bursts of flavours and spices. The development of Malay food began with the trading of spices and food in the 15th century, when the Straits of Malacca became a major means of trade. Let's take a look at some of the more popular types of gravy or sauces.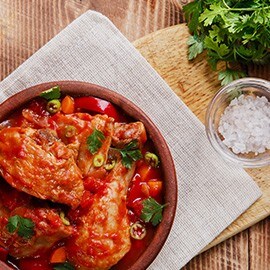 Masak merah
Ayam masak merah literally means red-cooked chicken. Also known as spicy tomato chicken, it is fried chicken cooked in tomato sauce, which lends this dish its distinctive red colour. Spices such as lemongrass and galangal (a type of ginger) give the dish a wonderful aroma.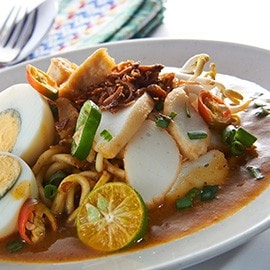 Mee rebus
Mee rebus is a combination of sour and savoury. A thick sweet potato gravy is poured over noodles, which is often accompanied by bean curd, hard-boiled egg, boiled potatoes, spring onions, cut chillies and a lime wedge. The thick gravy is usually made of chicken curry paste, potatoes, tamarind paste, sugar and Knorr Chicken Seasoning Powder.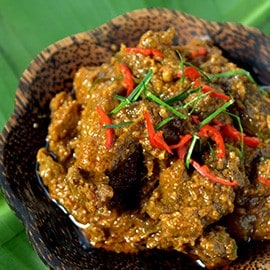 Rendang
Rendang is a curry containing lemongrass, galangal, chilli and cinnamon stewed slowly in a coconut curry liquid for several hours. The dish ends up dry but results in really tender and flavourful meat. A healthier alternative to traditional rendang would be vegetable or seafood rendang.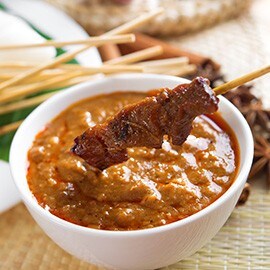 Satay peanut sauce
Satay consists of meat that is marinated with ingredients such as lemongrass, turmeric, chilli and coriander. The marinated meat is usually grilled over charcoal. It is served with items such as cucumber, onion and yummy peanut sauce.
Belacan
Shrimp paste is known as belacan. It is often used as a base for making sambal paste that is used in many Malay dishes. The paste can have either more chilli or more belacan. Those who prefer more heat would usually add more chilli into the mix.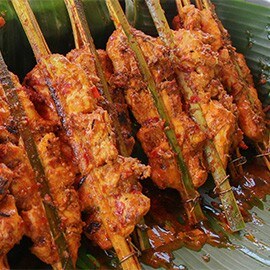 Percik
Ayam percik is also known as spiced coconut barbequed chicken. The chicken is marinated in spicy chili, garlic and ginger sauce mixed with coconut milk. This dish is especially popular during the fasting month of Ramadan. Each marinated chicken leg is usually clipped with a pair of homemade bamboo tongs, which prevents the meat from shrinking during the barbequing process. The meat is dipped into the sauce and cooked over a charcoal grill.