We understand working in the F&B industry is not easy. Despite it being stressful, you have persevered through challenging times holding on to your goals. Be inspired by these 3 passionate chefs and owners, and how they went against all odds to chase their dreams. 
Think you have what it takes to turn an ordinary dish into something extraordinary for your diners? Take up the Fusion Gourmet Challenge and whip up a creative fusion dish for a chance to win up to $1,000 shopping vouchers and media publicity for your business! 

Join the competition
Take up the challenge with Knorr Concentrated Chicken Bouillon
With Knorr Concentrated Chicken Bouillon, you can deliver consistent, umami and delicious flavour in a more efficient way.  Read on to see what these chefs have to say about this ingredient.
Chef Azlie Bin Mohd

"I was surprised by the results of Knorr Concentrated Chicken Bouillon. By switching from powder seasoning to bouillon, I managed to take my dishes to the next level. My diners complimented how my dishes tasted better than before."
Chef Muhammad Bin Abdullah aka Chef Joe 

"I was amazed by the rich essence of Knorr Concentrated Chicken Bouillon. With the switch from using powder seasoning to bouillon, I managed to speed up my work process while maintaining the consistency of my dishes with just a few drops of Knorr Concentrated Chicken Bouillon."
Chef Aswad Bin Othman

"Working in a hotel kitchen is very fast paced. I needed to embrace change to keep up the momentum. I was surprised at the results that Knorr Concentrated Chicken Bouillon can deliver. By switching powder seasoning to bouillon, it has helped cut down much preparation time in the kitchen, allowing me to work at a more efficient pace."
Try the Knorr Concentrated Chicken Bouillon now!
Switch from regular seasoning to our bouillon and see how it can elevate your dishes to another level to wow your diners. Request for a sample now.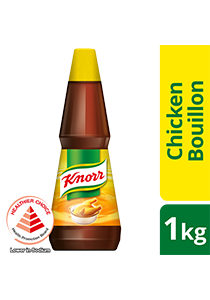 Made for Chefs by Chefs, KNORR now borrows from the best of Knorr's heritage in China with KNORR Concentrated Chicken Bouillon. KNORR Bouillon gives natural chicken flavour and aroma and boosts strong meaty flavour to your dishes. A perfect meaty bouillon for making stocks & soups.
Find out more
Download our collection of Heritage Halal Recipes for inspiration.
Looking for some ideas to get you started? Take a look at these recipes and start creating your own unique fusion halal dishes.
Get the recipe book