Fried chicken is here to stay. In fact, it's only getting better.
While healthy eating has grown in popularity, there are still moments when even the most health-conscious crave for a return to "the good old days" – where restaurants and coffee shops served up greasy burgers, fried noodles, and thick, savoury curries.

Say hello to the artisan fried chicken.

This dish is old-fashioned comfort food, updated and brought into the modern restaurant scene. 


Artisan fried chicken: what is it?

Essentially, this dish is fried chicken that's amped up with a variety of spices and flavours. Although a staple food in the United States for decades, artisan fried chicken has only just hit the big time here in Singapore – thanks to the recent appearance of artisan fried chicken stores that include famous names such as Wingstop and Chir Chir. 
Chicken wings are no longer mere "junk food". In 2017, trendy eateries are embracing the classic fried chicken and adding their own unique twists to age old recipes. This creativity and imagination is where the magic of artisan fried chicken lies.
 
Adding a dash of ethnic flair

As with any creation, you'll want to add your signature and distinctive twists to these dishes. One way to do so is to add a dash of ethnic flair.
Upscale eateries have been coming up with variations of this meal, including "US Southwestern" sandwiches and wings made with condiments such as fermented chilli peppers and lime, as well as "Asian-style" sandwiches, which are cooked with fish sauce and seasoned with shichimi spice.

Ethnically-themed fried chicken recipes will continue to rise in popularity. As a cultural and ethnic hotspot, Singapore is perfectly positioned to ride this trend with our cosmopolitan, multi-ethnic crowds who have a love for new, adventurous food choices.

Going "all out"

Some chefs have taken their artisan fried chicken meals to the extreme. One venue we've visited has started serving Chick-A-Roni, a sandwich consisting of fried chicken covered in macaroni and cheese, stuffed into a hoagie bun. 
Others like Chuckwagon BBQ & Grill have introduced fried chicken wings that come with 10 levels of spiciness to appeal to everyone from casual diners to the seriously brave-hearted!

Besides borrowing ideas from the West (that already has dozens of amazing ideas you can reference), you can also choose to localise this dish by pairing your fried chicken with local favourites such as roast pork, luncheon meat or even dough fritters (i.e. you tiao). Consider juicing up the spice level with chilli padi or other adventurous local spices.
 
Get started with these recipes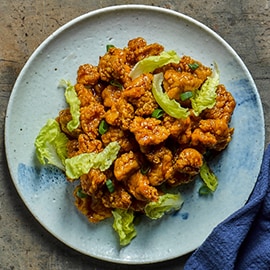 Marmite Fried Chicken
Need an idea for a fantastic fried chicken recipe that you can include in your menu? Take our winning recipe for Marmite Fried Chicken. The savoury touch from the Marmite, combined with the juicy tenderness of the fried chicken pieces, is bound to impress your diners.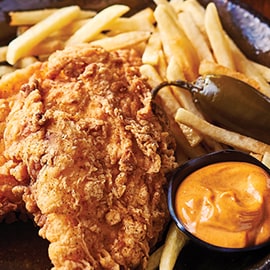 Southern Fried Chicken Schnitzel
If you're wondering where the word "schnitzel" comes from, it's from Austria – the birthplace of the world-famous chicken schnitzel. While this deep fried chicken dish is traditionally served with lemon, we've found that a spicy barbeque dip perfectly complements Asian palates and our love for spicy, fried food.