Across nations and cultures, food preferences differ widely. However, the one ingredient that everyone around the world seems to universally love, is chicken.

In this article, we're celebrating our global love for chicken by exploring some of the most popular dishes from across continents. As a bonus, we'll even give you a few of our own recipes, so you can cook up these delights in your kitchen!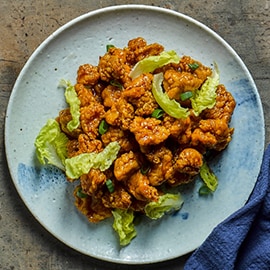 Marmite Chicken
A typically Singaporean dish that needs no introduction, this culinary delight combines two flavourful ingredients – Marmite and chicken – in a frying pan and lets the flavours come together to form a delightfully savoury dish. A popular item at zi char stalls, add some flair to this dish and make it your own. Your diners will thank you for it.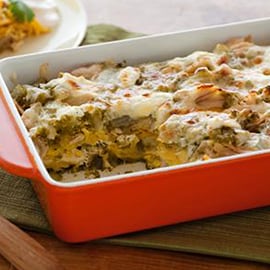 Roast Chicken Enchilada Suizas Stacked Casserole
This dish is very popular among Mexicans. The casserole is overflowing with amazing flavour and well-loved by the young and old. This treat would make an excellent addition to your restaurant's menu.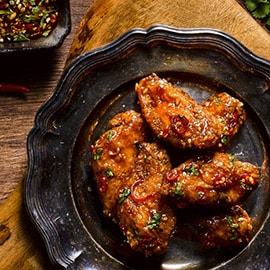 Asian Honey Glazed Wings
Tantalisingly sweet, spicy, delicious and crunchy. This deep fried delight highlights the essence of Asian food – sinful, flavourful and spicy! It's fantastic as a side dish taken with rice, or on its own as a main.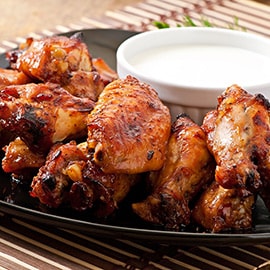 Asian BBQ Chicken
Also known simply as "BBQ Chicken" in Singapore. This is a classic dish that's been described by western diners as South Asian Chicken Teriyaki. An all-time favourite among both adults and kids that's also easy to make, it's definitely worth including it in your menu.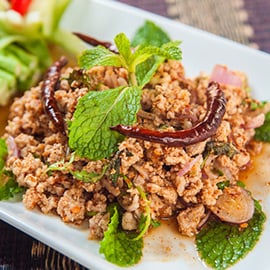 Thai Minced Chicken Lettuce Cups
This is a rather addictive dish that boasts rich flavours, owing to its combination of chilli, pepper, ginger, brown sugar, fish sauce and lime that creates a unique Thai flavour that will surely have diners coming back for second helpings.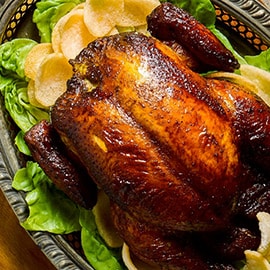 Indonesian Style Baked Chicken
Delight diners with a taste of Indonesia with this dish. When baked to perfection, the tender chicken is bursting with the goodness of Southeast Asian spices and its robust flavours. Here's our recipe for baking the best Indonesian Style Baked Chicken (that we know of)! Go ahead, try it and make it your own.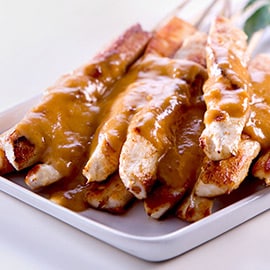 Grilled Thai Curry Chicken Skewers with Coconut Peanut Sauce
Another fantastic Thai dish, this gem appeals to people of all age groups, making it a must-have on a restaurant menu. The secret is in its amazing sauce, which almost takes the spotlight away from the chicken.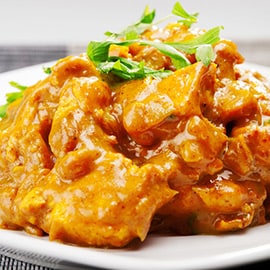 Chicken Tikka
This chicken dish is wildly popular in India and Pakistan. The chicken is cooked on skewers over coals after being marinated with a unique blend of spices. If you want to add a spicy number to your menu, chicken tikka is an excellent choice. We recommend offering this item with varying levels of spiciness, challenging diners to test their limits!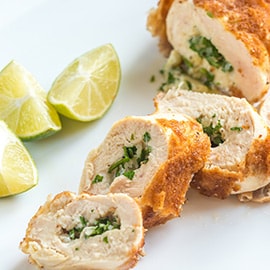 Kickin' Chicken Kiev
All that's needed to make this classic Russian dish is some good chicken, golden breadcrumbs and tasty garlic butter. It's simple, elegant and sure to delight.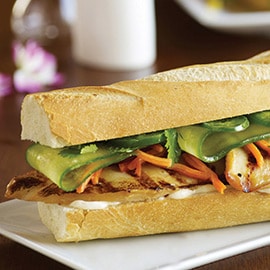 Asian Chicken Sandwich
This meal proves that healthy food can also be delicious. Prepared with chicken breasts, greens and a mix of Asian spices (with some Mexican jalapenos to spice things up), the Asian Chicken Sandwich is great for health-conscious diners, weight-watchers or anyone who's looking for a tasty, light meal.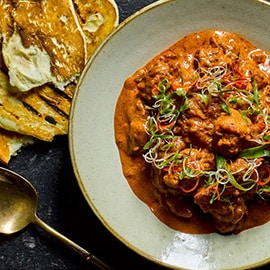 Butter Chicken and Naan
As the name suggests, this is a rich dish that will satisfy even the biggest appetites. Naan is an Indian/Pakistani-style bread that's usually eaten with meat-based items and/or lentils.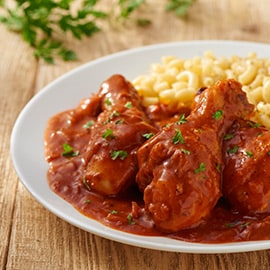 Poulet au Paprika
It's essentially a classic Hungarian dish with a French twist. The chicken gets its spicy flavour from paprika, white onions, peppers and fennel, while the creamy sauce completes this delectable dish.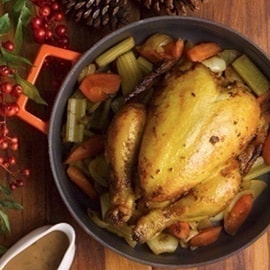 Italian Herbs Roasted Chicken
Treat your diners to the heart-warming pleasure of freshly roasted chicken, soaked in Italian herbs and gravy. Garnish with carrots, onions and celery to bring home cooking to your restaurant with this dish.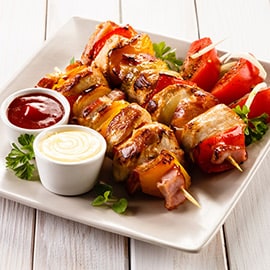 Middle Eastern Chicken Kebabs
The meat from chicken thighs is used to create these juicy kebabs. Lemon, spices and Greek yogurt are used for marinating the chicken before grilling on skewers till golden brown.