As COVID-19 continues to make headlines, diners' food preferences are shifting from "delicious meals" to "nutritious (and still delicious) food selections" to keep themselves healthy. The bad news is, many restaurants are facing a dip in dine-in profits. However, the good news is this could be the ideal time to focus your efforts on improving sales from your food delivery menu.
The fastest way to do so would be to offer Singaporeans more of what they're already ordering through food delivery apps. Here are some nutritious recipes to consider adding to your delivery menu, so you can offer diners healthier choices that are perfect for everyone in the family. 

Beetroot Black Fungus Salad with Citrus Segments and Garlic Broad Bean Dressing
This dish is a delicious source of vitamin C, B6, calcium, fibre and antioxidants thanks to its combination of beetroot, garlic, fruits and vegetables. Overall, the vitamins and minerals may help to lower the risk of heart disease. Calcium supports normal nerve and muscle function, and most importantly, selenium assists in maintaining the function of the immune system.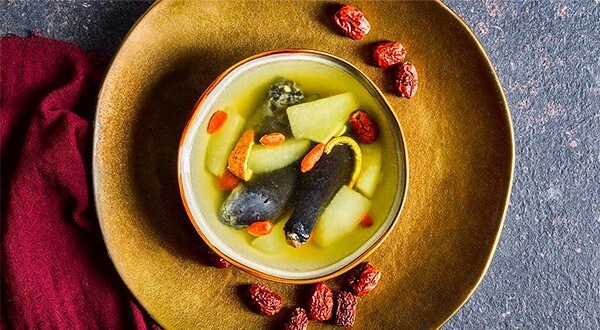 Snow Pear with Black Chicken Broth
This recipe takes a classic black chicken broth (often referred to as the "King of all Chinese soups") and improves it with delicious snow pears, crunchy almonds, goji berries and more. The ingredients in this soup contain a healthy amount of unsaturated fats (i.e. good fats), as well as calcium, fibre and zinc – supporting the development of strong bones, good digestion and contributing to the functioning of the immune system, respectively.
Double Pork Rib, Black Garlic, Cordyceps, Radix & Red Dates Soup
An herbal treat that will be enjoyed by diners of all ages, this soup is a tasty and wholesome mix of pork ribs, black garlic, cordyceps, radix and red dates. It contains an impressive amount of vitamins, minerals and protein for overall well-being and body maintenance.
Hot Ginger Lychee Tea
This soothing, traditional Asian remedy is known for its ability to fight fatigue and invigorate the body, as well as its antioxidising and anti-inflammatory properties. Add this delicious tea to your menu and recommend it as an ideal complement to any main dish.
Discover the most popular delivery dishes
If you missed our "Top 5 Most Ordered Food Delivery Dishes" article, we showcased Singapore's most popular food items—proven by real customer data from GrabFood. Our little red dot's favourite food categories are:

Burgers
Local Favourites
Fried Chicken
Milk Drinks and Desserts
Pasta
Try them out and see if they're a hit at your restaurant!