While face masks and good hygiene provide a level of protection against the coronavirus (COVID-19), a strong immunity system is just as—if not more—important for keeping the virus at bay.
These dishes are healthy enough to support their immune system, and tasty enough to keep them coming back for more! 

Arrowroot Song Fish Head, Chrysanthemum Fish Soup
This dish is made from a selection of Chinese ingredients that are well known for their nourishing properties. Arrowroot is high in folate, which is needed for immune system function. Meanwhile, folate helps to reduce tiredness and fatigue. Also, the potassium found in Chrysanthemum supports muscle function.
The recipe also includes a Chinese favourite: goji berries, which are full of iron, calcium, vitamin C, and fibre. Iron is known to be an important component of red blood cells (that carry oxygen to all parts of the body), calcium promotes strong bones and teeth, and fibre aids in digestion.

Snow Pear with Black Chicken Broth
When choosing healthy meals, many Singaporeans opt for broths because of their strong flavours and reputation for being nourishing foods. Snow Pear with Black Chicken Broth can be a fantastic addition to your menu, as the reputation of its ingredients speak for themselves. Almonds contain healthy unsaturated fats, while goji berries contain iron, calcium, fibre and vitamin C.
The broth's star ingredients are snow pear and black chicken. Snow pear is an excellent source of fibre, vitamins and minerals. Meanwhile, black chicken contains protein and vitamin B5, a vitamin that increases energy levels and reduces tiredness. It also contains zinc, which is essential for growth and maintaining a strong immune system.

Beetroot Black Fungus Salad with Citrus Segments and Garlic Broad Bean Dressing
Diners who love salads will certainly appreciate the broad range of nutrients in this dish. Its selection of fruits and vegetables provide diners with a good dose of antioxidants (which are great for reducing inflammation), vitamins (especially C and B6) and minerals (such as phosphorus, calcium and selenium).
What do these minerals do? Selenium helps to maintain immune system function and protects cells from oxidative stress, while calcium is needed for normal nerve and muscle function.

Wheatgrass Tofu with Royale Chives, Beansprouts and Shimeji Mushrooms
Health-conscious diners know all about the health benefits of wheatgrass. It is a source of calcium, iron and vitamin K, which collectively support the development of strong bones and teeth, energise the body, reduce fatigue, and support the immune system.
Mushrooms and tofu are also great ingredients for this dish. Mushrooms are known to be cholesterol-free, low in calories and fat, and contain antioxidants. Meanwhile, tofu provides diners with a healthy dose of calcium and protein.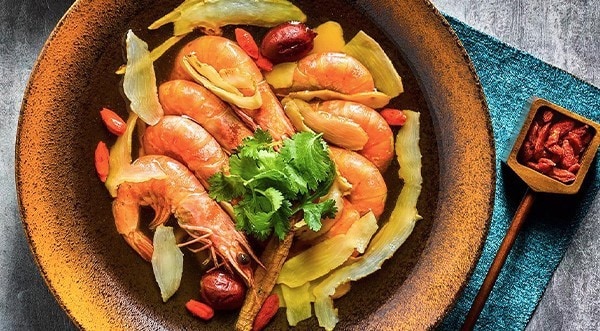 Herbal Drunken Prawns
Seafood (like prawns) provide the body with protein, along with a mix of vitamins and minerals that enhance the immune system. This particular recipe also includes dates, which have fibre that aid the digestive system.
Lobster and Vegetable Fettuccini Salad
Delight guests with a healthy "fettuccini" salad that's made of zucchini, carrot, daikon and cucumber for a delightful mix of vitamins and fibre. A succulent lobster adds taste, as well as protein to this vitamin-packed recipe that is sure to captivate diners' imaginations.