KNORR Chicken Gravy Mix 1kg
12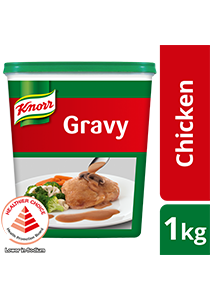 Made with real chicken meat
Creates a variety of sauces from a single base to save time, space, and reduce wastage
Gives you flexibility as it can be prepared in advance during non-peak periods to freeze and store
Allows for instant preparation by dissolving sauce mix with hot water
Packaging
Excluding 7% GST
All product information
Nutrition and allergens
Halal - Malaysia

Endorsed by Health Promotion Board as a healthier choice with lower sodium

No added MSG
Ingredients and Allergen Information
Modified Starch (Contain Sulphite), Sugar, Wheat Flour, Salt, Maltodextrin, Permitted Flavour Enchancer (E621, E635), Chicken Meat and Fat, Onion (Contain Sulphite), Permitted Flavourings (Contains Egg), Caramel (Contain Sulphite), Spices, Edible Gum, Citric Acid, Celery

All food additives are of plant, animal and synthetic origin. May contain traces of cereals containing gluten, milk, fish, crustacean, mollusc, soy, peanut and tree nuts.
Additional Information
Halal - Malaysia
Endorsed by Health Promotion Board as a healthier choice with lower sodium
No added MSG
Key product information
Description
KNORR Chicken Gravy Mix contains real chicken meat and is now in an instant formulation, giving you the natural taste and aroma of chicken in just 3 minutes!
Packaging
Per carton (6 x 1 kg)
Container
Per piece (Tub)
Usage information
Preparation
1. Dissolve 50g of KNORR Chicken Gravy Mix in 500ml of hot water.
2. Ready to serve.

Storage
After opening, close lid tightly, store in cool and dry place.