Singaporeans love adding chilli to food.
Whether chopped, diced, as a sauce or in soup, chilli is a great way of upgrading your dishes from good to shiok!
Extra spiciness goes a long way
As proof of how "powerful" chilli can be for Singaporean palates, some of the nation's most popular restaurant chains and hawker stalls have made their marks simply because of the shiokness of their chilli.

Think about these signature chilli sauces and their unique tastes, then consider how you can concoct your own special chilli sauce to complement your most popular dishes and make your menu truly spectacular.
Just imagine how different these popular dishes would be without their legendary chillies and sauces:

Chicken rice with its sweet garlic chilli that perfectly complements chicken
Duck rice and its thick, oily chilli that enhances the flavour of both the duck and brown yam rice
Sambal Stingray that gets most of its sedap taste from its sour lime chilli sauce
Hor Fun and its complementary chopped green chilli that gives it a sweet-sour-spicy taste
Not forgetting the diminutive but highly potent champion of chillies – the chilli padi! Indonesians love them so much, they'll even eat chilli padi with rice, and can finish an entire saucer of these chillies at one sitting.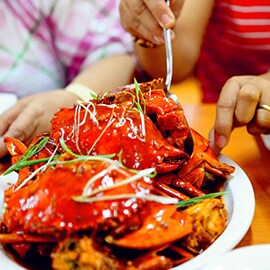 Spiciness makes (almost) any dish more exciting
Adding a few levels of spiciness to your existing dishes is bound to attract plenty of diners to your restaurant.
Need some ideas to get started? See our "Related recipes" section for some mouth-watering chilli-infused recipes that are bound to delight just about anyone!