With hotpots being all the rage nowadays, it's no wonder that chefs are experimenting with unique ingredients and combinations, coming up with novel, surprising flavours. Read on to discover what some of them are.
 
Local Selections
Drunken Chicken Hotpot
Originally a Shanghainese dish with chicken bathed in Shaoxing rice wine, this local inspiration brings a sophisticated flavour and restaurant pedigree to the hotpot. Chefs and diners alike will find this a refreshing take on the traditional Chinese hotpot.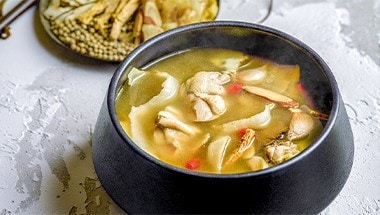 Chick Kut Teh Hotpot
While Singaporeans love our Bak Kut Teh, we also enjoy surprising twists on our favourite dishes—like this Chick Kut Teh recipe! Made with Knorr Concentrated Chicken Stock and authentic Chinese herbs as its base, this unique take on a traditional favourite brings an irresistible peppery broth to your hotpot menu.
Mushroom and Chicken Hotpot
The gentle process of double boiling chicken and dried shitake gives this hotpot soup base a distinct local Chinese flavour. Add in premium ingredients like the matsutake mushroom and this soup base is one worthy of any restaurant hotpot.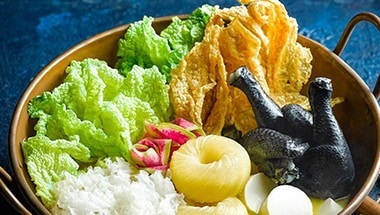 Chicken Collagen Hotpot
Introduce this ubiquitous Japanese creamy soup base that's well-known for its nutritional and cosmetic benefits to your menu as another option for health-conscious diners. An absolute favourite for eating hotpot shabu shabu style!
Soymilk Hotpot
Soymilk and dashi are used to create a creamy and savoury hotpot soup base. Their delicate flavours accentuate the varied textures and tastes of other ingredients like thinly-sliced pork, leafy greens, tofu and mushrooms.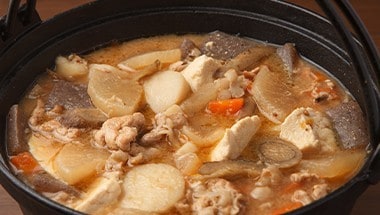 Tonjiru Hotpot
A hearty dashi-based broth that is packed full of umami flavours, this is one Japanese import to savour in the hotpot. Savoury pork belly combined with the subtle sweetness of daikon and carrots make for a flavourful and satisfying meal.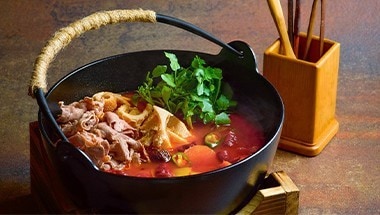 Tamarind Spiced Tomato hotpot
Spice up the hotpot with a refreshing blend of local spices, tomato and tamarind. Using Knorr Tomato Paste is not only a sure-fire way to save preparation and cooking time, it also allows you to adjust colour and acidity.
Double Boiled Yam & Red Grouper Salted Egg Hot Pot Soup
This recipe is a hotpot fusion of unexpected delights. Deep-fried red grouper and salted egg paste served in a Hua Tiao wine-infused fish soup base? Totally unexpected, but totally awesome.
Ginseng Cheese Soup
Most people wouldn't think of putting ginseng and cheese in the same sentence, not to mention in the same soup. This recipe is a true fusion-inspired creation, combining the best of both traditional and modern in one hotpot.
Boiled Spicy and Sour Cheese Fish Soup
Yin-yang hotpots are so 20th century. Why separate flavours when they can blend oh-so-tastefully in the very same hotpot? This recipe breathes new life to the hotpot with a blend of tangy cheese, creating a heartwarming and spicy soup base.
Looking for more ideas to expand your hotpot menu? Learn about the regional variations of the Chinese hotpot in this infographic.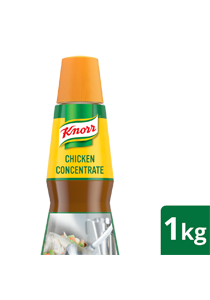 Knorr — No. 1 Chicken Stock Brand in Singapore. Knorr Concentrated Chicken Stock helps you to bring out the best flavours of your dish with its natural richness derived from high meat content. Beyond flavour, the concentrated liquid format allows for faster and better flavour delivery across all applications, letting you serve your diners delicious food faster. As a Knorr chicken stock, it is also multi-functional, and acts as a great soup base, or a key part of your stir fry dishes, grills, and marinades. Best of all — it contains lower sodium and is the healthier choice when preparing meals for your diners.
Find out more
Made with sustainably grown Italian tomatoes, Knorr Tomato Paste is a ready to use tomato paste that is ideal for a wide range of dish applications. It is suitable for use as a pizza and pasta topping, or as a base sauce in stews, gravies and casseroles.
Find out more