Pandan Chempedak Cream Puff
If you like cream puffs, you'll fall in love with this recipe that puts a modern Asian twist on an iconic Parisian pastry. Rich and creamy, these Pandan Chempedak Cream Puffs will be the star at your next Ramadhan feast.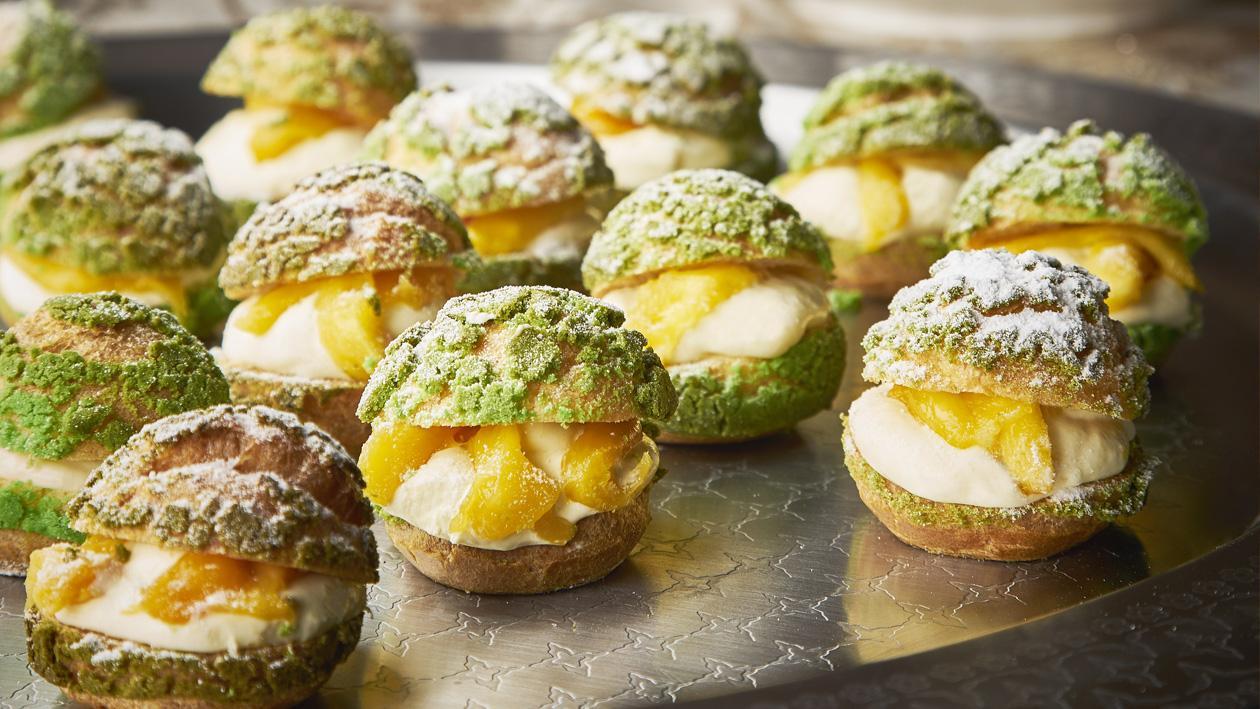 Ingredients
Choux Pastry
Pandan Craqueline
Pastry Cream
Preparation
Choux Pastry

Preheat oven to 190°C.
In a medium pot, heat up water, milk, margarine, salt, and sugar until the mixture boils.
Add in both sifted flours. Continue to stir until the mixture resembles a ball and no longer sticks to the sides of the pot.
Remove from heat and cool it down a bit before incorporating the eggs with a mixer gradually until a thick smooth mixture is achieved.
Transfer the dough to a piping bag fitted with a medium plain nozzle.
Pipe the choux into circular shape on a tray lined with baking parchment.
Top the choux dough with the cut out craqueline dough. (Refer to craqueline dough recipe)
Bake in the oven for approximately 15 minutes depending on your oven.
Quickly open the oven to release the steam.
Continue to bake for another 10 minutes.
Remove from oven and cool before use.

Tips: Bread Flour helps to stabilize the shape and exterior texture of choux shells

Pandan Craqueline

Cream the margarine and brown sugar till a little creamy. Add in pandan paste.
Add in sifted flour.
Mix till a dough is formed.
Roll out the dough to a considerable thickness between two pieces of parchment paper.
Freeze the dough in the freezer for approximately 15 minutes.
Cut out the dough using plain round cutter, according to the size of piped choux, and lay on top of the choux pastry.

Pastry Cream

In a bowl, combine the 50 ml of milk together with corn flour and egg yolk.
Mix and sift.
Combine the remaining 200ml milk, dairy cream, and fine sugar. Bring to a boil.
When the mixture boils, add in the sifted mixture, and continue to whisk till it thickens.
Remove from stove and add in unsalted butter.
Whisk vigorously till a smooth homogenous mixture is achieved.
Cool till ready to use.

Chempedak Chantilly Cream

In a mixer, beat cooled pastry cream, and add in chempedak meat.
Whip up non-dairy cream to stiff peak.
Fold the whipped cream into the chempedak pastry cream.
Chill for 1 hour before piping into the choux puffs.
Add in slices of chempedak meat in between the cream, and continue to pipe the cream on top of the chempedak meat.
Serve chilled.