KNORR Basic Stock Reduction 820g
17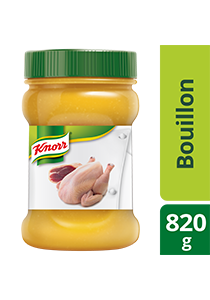 Delivers full flavoured body, strong top and base note of a complete authentic stock
Made from an authentic blend of quality stock ingredients including Jinhua ham, chicken and pork to give the meaty body and flavours that scratch-made stock delivers
Saves time, utilities & cost
Emulsification technology retain the natural goodness and essence of ingredients in jelly format
Beneficial especially for large volume production & banqueting
Packaging
Excluding 7% GST
All product information
Nutrition and allergens
No added preservatives
Ingredients and Allergen Information
Salt, Monosodium Glutamate, Chicken Extract, Permitted Flavourings (contains cereal contatining gluten, crustaceans, egg and soybean), Sugar, Hydrolysed Vegetable Protein, Pork Extract, Edible Gums, Sodium Inosinate & Guanylate, Potassium Chloride, Chicken Fat, Acid Lactic, Ham Fat, Permitted Colourings and Spice.

May contain traces of fish, molluscs and crustaceans.
Key product information
Description
KNORR Basic Stock Reduction combines good quality chicken and pork with Jin Hua ham - key ingredients in the authentic Chinese stockpot. This perfect blend allows a full or partial replacement of the meat and bones in your stock to deliver a well-rounded meaty flavour and aroma.
Packaging
Per carton (6 x 820 g)
Container
Per piece (Bottle)
Usage information
Preparation
For Stock: Add 40g of KNORR Basic Stock Reduction to 1L of boiling water.
Storage
Store in a cool and dry place. Refrigerate after opening (1-4°C) and use within 3 days for best quality.