This simple but satisfying soup is a delicious way to sample the luxurious taste of truffles, and is best served with cheesy focaccia crostini.
Knorr Potato Flakes not only adds flavour to the truffle soup; it also acts as a thickener to give it an appealing texture that goes amazingly well with crostini. Watch the video below to learn how to make the perfect crostini to complement your soup. Get the recipe here!


Tip video: Whip up the best crostini!
Chef's tips & techniques
Instead of truffle, you can use mushrooms or celery root.
The soup works well as an appetiser too – simply serve in small cups.
For the crostini, use olive oil, Parmesan cheese and salt.
Nutritional tip: To make a lighter soup reduce the amount of cream and serve with more vegetables.

FAQs

Why should I use crème fraiche instead of regular cream in truffle soup?
Crème fraiche is a sour cream that gives soup a fresher taste compared to regular cream.
Knorr Potato Flakes offers a versatile, high-quality gluten-free potato base for chefs to work from. Made from sustainable high-quality German potato flakes, it is versatile for creating a variety of different dishes with ease, like creamy croquettes, herb and cheese potato mash or even to thicken a corn soup or as a pie topping.
Find out more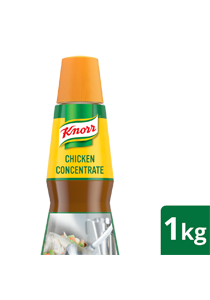 Knorr — No. 1 Chicken Stock Brand in Singapore. Knorr Concentrated Chicken Stock helps you to bring out the best flavours of your dish with its natural richness derived from high meat content. Beyond flavour, the concentrated liquid format allows for faster and better flavour delivery across all applications, letting you serve your diners delicious food faster. As a Knorr chicken stock, it is also multi-functional, and acts as a great soup base, or a key part of your stir fry dishes, grills, and marinades. Best of all — it contains lower sodium and is the healthier choice when preparing meals for your diners.
Find out more