Baking is a healthy option to cooking this popular lean protein. Complemented with fragrant mushroom sauce and leek oil, this version is best served up hot and juicy from the oven.

Watch the Chicken with Creamy Mushroom Sauce and Leek Oil recipe video
Get the recipe here!

Everyone loves tender roasted chicken, especially when it's accompanied by a delicious sauce. Here's a tip that shows you why leek oil beautifully complements this dish.


Tip video: See why leek oil is ideal for this recipe!
Chef's tips & techniques
To make the leek oil, heat vegetable oil to 60°C, blend the green part of the leek with the oil, then cool down and use to garnish. Torch the leek for a nice roasted touch and improve presentation.
"Burn" the shallots slightly for a nicer flavour and better look. 
To give your dish better presentation, use green and white mushrooms, more herbs and a black plate so the sauce and ingredients pop.
You can replace green leeks with spring onion.
For a little kick, add a dollop of mustard to the sauce.
Nutritional tip: You may substitute crème fraiche with low fat cream.
Chef Mark's top tip: "Use chicken leg or thigh instead of other cuts like breast for the best taste and texture."

FAQs

Do I need to BBQ the chicken?
No, you can roast it in the oven or pan fry it.
What if I don't have green leeks to make the oil?
You can use parsley or spinach, or even the green part of spring onions. Alternatively, you can use spring onion oil.
Can I use my oven?
Yes, as long as you keep the oven at 120°C. 
What are other types of protein I can use with mushroom sauce? 
Chicken can be swapped for a pork steak or veal cutlets. 
Knorr Demi Glace Brown Sauce Mix gives you the full flavour and aroma of beef in 5 minutes, instantly boosting the taste of your favourite dishes or scratch-made demi glace.
Find out more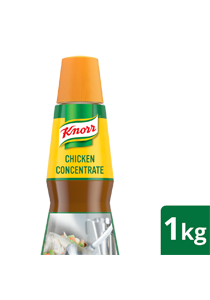 Developed for Chefs by Chefs, Knorr Concentrated Chicken Stock is made with 2 times more chicken** slow simmered for long hours until concentrated, dissolving instantly for a rich, natural and well-balanced taste and aroma in your dishes.
Find out more