Lavender is a versatile culinary herb that blends well with rich flavours. This recipe pairs it with a honey glaze, and these 2 ingredients truly complement the unique flavour of duck to create a dish that is simply amazing.

Watch the Glazed Duck with Honey, Lavender and Corn Cream recipe video
Get the recipe here!

When prepared correctly, duck breast can be a decadent addition to your menu. Watch the video below to get a tip on how to enhance its succulent flavour with this simple yet indulgent side dish.

Tip video: See the best side dish for your duck!
Chef's tips & techniques
Make popcorn to garnish; it goes well with the corn cream.
Instead of balsamic vinegar, you can use lemongrass and Chinese wine for an Asian twist.
Instead of lavender, add some Asian flavour with lemongrass or star anise. 
Chef Mark's top tip: "It's important to pan fry the duck in a dry pan until all the fat has disappeared into the skin so it turns crispy."
"Instead of frying the duck, grill 70% on the skin side, the remaining 30% on the flesh side, then rest."

FAQs

What other side dishes can accompany the glazed duck?
This dish can also be served with root vegetable purees such as yellow squash, sweet potatoes, celeriac, potatoes, etc.
How does the popcorn work with the corn cream?
Since you are creating corn cream, it's nice to use the same ingredient in a different shape or structure.
Knorr Demi Glace Brown Sauce helps you attain delicious and authentic roasted beef aroma quickly and with less effort, letting your prepare for big banquets or events with ease. On a day-to-day basis, it remains the go-to sauce for steaks and other Western or Fusion dishes. The sauce ingredients are selected with freezing and storing in mind, which makes it suitable for the freeze-thaw cycle at central kitchens. Even so, Knorr Demi Glace Brown Sauce delivers long lasting flavour, having the same texture and consistency even after 5 days.
Find out more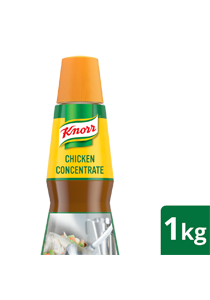 Knorr — No. 1 Chicken Stock Brand in Singapore. Knorr Concentrated Chicken Stock helps you to bring out the best flavours of your dish with its natural richness derived from high meat content. Beyond flavour, the concentrated liquid format allows for faster and better flavour delivery across all applications, letting you serve your diners delicious food faster. As a Knorr chicken stock, it is also multi-functional, and acts as a great soup base, or a key part of your stir fry dishes, grills, and marinades. Best of all — it contains lower sodium and is the healthier choice when preparing meals for your diners.
Find out more