The only way to have veal shanks is fall-off-the-bone tender. Served with perfectly prepared risotto, this melt-in-your mouth meat and luscious marrow recipe is the perfect way to indulge your guests.

Watch the Ossobuco with Risotto Milanese recipe video
Get the recipe here!

One way to elevate this dish even further is by using a mouth-watering white wine sauce created using Knorr Pronto, accompanied by gremolata. Watch the video below to learn how to create an authentic gremolata.

Tip video: Make an authentic gremolata!
Chef's tips & techniques
Add a fresh citrus twist to this Italian dish by finishing off with Gremolata – an Italian dressing made with parsley, garlic and grated lemon zest.
Garnish with sun-dried tomatoes to add some vibrancy and colour. 
If you don't have veal shank, you can use veal brisket or beef shank.
Nutritional tip: Natural flavours such as citrus products, herbs, spices, and vinegar add zing to meals while reducing the amounts of fat and sodium. 

FAQs

What is the best way to make large quantities of ossobuco? 
Put them in oven trays and make sure you cover them with the sauce.
What if I don't have a vacuum or sous vide machine? 
You can stew this dish in a pot on a low temperature for 2-3 hours.
How do I get a nice yellow colour in my risotto? 
Boil the saffron in chicken stock and rest it overnight.
What if I don't have saffron?
For an Asian twist, you can add use small amount of turmeric instead.
Knorr Demi Glace Brown Sauce helps you attain delicious and authentic roasted beef aroma quickly and with less effort, letting your prepare for big banquets or events with ease. On a day-to-day basis, it remains the go-to sauce for steaks and other Western or Fusion dishes. The sauce ingredients are selected with freezing and storing in mind, which makes it suitable for the freeze-thaw cycle at central kitchens. Even so, Knorr Demi Glace Brown Sauce delivers long lasting flavour, having the same texture and consistency even after 5 days.
Find out more
Knorr Pronto Tomato sauce delivers superior quality and taste consistently. Made from 40 freshly-chopped, quality Italian tomatoes together with sunflowers oil and onion, rest assured that the flavours brought out in your Western dishes will be authentic regardless of your staff's skill levels. As a versatile sauce, – use it for your tomato-based spaghetti, dips and even as a soup base for tomato soups. All you have to do is pour out the sauce from the tomato sauce can and heat it up, saving time and effort. With MSG added and endorsed by Health Promotion Board (HPB) as a healthier choice with lower sugar*, provide healthier meals for your diners.
Find out more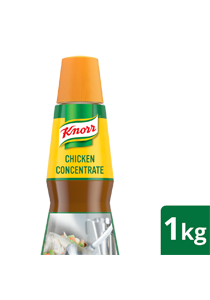 Knorr — No. 1 Chicken Stock Brand in Singapore. Knorr Concentrated Chicken Stock helps you to bring out the best flavours of your dish with its natural richness derived from high meat content. Beyond flavour, the concentrated liquid format allows for faster and better flavour delivery across all applications, letting you serve your diners delicious food faster. As a Knorr chicken stock, it is also multi-functional, and acts as a great soup base, or a key part of your stir fry dishes, grills, and marinades. Best of all — it contains lower sodium and is the healthier choice when preparing meals for your diners.
Find out more