The only way to have veal shanks is fall-off-the-bone tender. Served with perfectly prepared risotto, this melt-in-your mouth meat and luscious marrow recipe is the perfect way to indulge your guests.

Watch the Ossobuco with Risotto Milanese recipe video
Get the recipe here!

One way to elevate this dish even further is by using a mouth-watering white wine sauce created using Knorr Pronto, accompanied by gremolata. Watch the video below to learn how to create an authentic gremolata.

Tip video: Make an authentic gremolata!
Chef's tips & techniques
Add a fresh citrus twist to this Italian dish by finishing off with Gremolata – an Italian dressing made with parsley, garlic and grated lemon zest.
Garnish with sun-dried tomatoes to add some vibrancy and colour. 
If you don't have veal shank, you can use veal brisket or beef shank.
Nutritional tip: Natural flavours such as citrus products, herbs, spices, and vinegar add zing to meals while reducing the amounts of fat and sodium. 

FAQs

What is the best way to make large quantities of ossobuco? 
Put them in oven trays and make sure you cover them with the sauce.
What if I don't have a vacuum or sous vide machine? 
You can stew this dish in a pot on a low temperature for 2-3 hours.
How do I get a nice yellow colour in my risotto? 
Boil the saffron in chicken stock and rest it overnight.
What if I don't have saffron?
For an Asian twist, you can add use small amount of turmeric instead.
Knorr Demi Glace Brown Sauce Mix gives you the full flavour and aroma of beef in 5 minutes, instantly boosting the taste of your favourite dishes or scratch-made demi glace.
Find out more
Made with sustainably grown Italian tomatoes, Knorr Pronto Tomato is a ready to use concentrated tomato sauce that is ideal for a wide range of dish applications. Simply add desired amount to enrich soups, sauces and meat or fish dishes for authentic Italian taste and flavours.
Find out more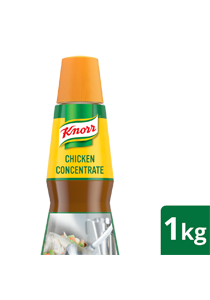 Developed for Chefs by Chefs, Knorr Concentrated Chicken Stock is made with 2 times more chicken** slow simmered for long hours until concentrated, dissolving instantly for a rich, natural and well-balanced taste and aroma in your dishes.
Find out more