KNORR Lime Flavoured Powder 400g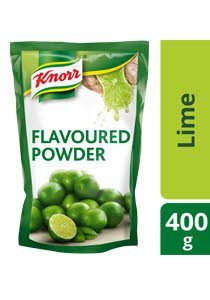 Preparation
1 Teaspoon KNORR Lim Flavoured Powder + 3 Teaspoons Water = 1.5 Limes
Storage
Close pack tightly and store in a cool and dry place.
Benefits
Halal
Taste and aroma of fresh lime
Ingredients and Allergen Information
Dextrose, Citric Acid, Permitted Flavouring (Contains Soy), Lime, Silicon Dioxide, Permitted Colouring (contains E102)

All food additives used are from plant and synthetic origins. May contain traces of cereals containing gluten, milk, egg, fish, crustacean, mollusc, peanut and tree nuts.
Description
Sprinkle a dose of freshness into your drinks and dishes! Made with fresh limes, KNOR Lime Flavoured Powder gives the taste and aroma you need to get your lime recipe out fresher and faster!