KNORR Demi Glace Brown Sauce Mix 1kg
10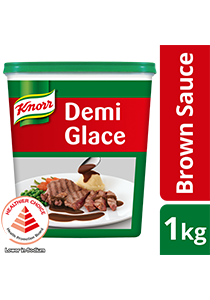 Delivers authentic roasted beef flavour
Saves time and labour, especially when preparing for big banquets or events
Provides flexibility as it can be prepared in advance during non-peak periods, to freeze and store
Gives great taste at a lower cost
Suitable for freeze-thaw cycle at central kitchens. Long lasting flavour, same texture and consistency even after 5 days
Packaging
Excluding 7% GST
All product information
Nutrition and allergens
Halal - Malaysia

Endorsed by Health Promotion Board as a healthier choice with lower sodium

No added preservatives

No artificial colours added
Ingredients and Allergen Information
Wheat Flour, Maltodextrin, Sugar, Salt, Cornstarch (Contains Sulphite), Permitted Flavour Enhancer (E621, E635), Palm Fat, Caramel (Contains Sulphite), Beef Fat, Onion (Contains Sulphite), Permitted Flavourings (Contains Sulphite, Dairy), Edible Gum, Red Beet, Spices, Citric Acid

All food additive used are from plant and animal origin. May contain traces of cereals containing gluten, egg, fish, crustacean, mollusc, soy, milk, peanut and tree nuts.
Additional Information
Halal - Malaysia
Endorsed by Health Promotion Board as a healthier choice with lower sodium
No added preservatives
No artificial colours added
Key product information
Description
Knorr Demi Glace Brown Sauce Mix gives you the full flavour and aroma of beef in 5 minutes, instantly boosting the taste of your favourite dishes or scratch-made demi glace.
Packaging
Per carton (6 x 1 kg)
Container
Per piece (Tub)
Usage information
Preparation
1. Dissolve 100g of KNORR Demi Glace Brown Sauce Mix in 1L of room temperature water.
2. Bring mixture to a boil, stirring frequently, and simmer for 3 minutes before removing from heat.
3. Use sauce as it is, or as a base for other sauces such as peppercorn or mushroom sauce.

Storage
After opening, close lid tightly, store in cool and dry place.