KNORR Rock Sugar Honey Sauce 3kg
24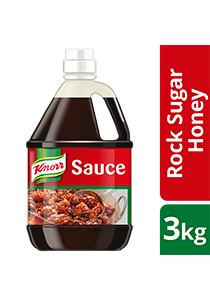 Endorsed by Health Promotion Board as a healthier choice with lower sodium*
Made from premium ingredients such as Pure Australian Honey and Yellow Rock Sugar for better tasting and looking dishes
1 step solution that delivers consistency and saves time and labour
Versatile sauce that can be used across different cuisines and applications
Delivers lasting taste, aroma and coating ability for up to 5 days after cooking and storage
Packaging
Excluding 7% GST
All product information
Nutrition and allergens
Endorsed by Health Promotion Board as a healthier choice with lower sodium

Halal - Thailand
Ingredients and Allergen Information
Yellow Rock Sugar, Spy Sauce (Contains Wheat), Tomato Sauce, Glucose, Oyster Sauce (Contains Wheat, Crustaceans, Molluscs, Fish), Honey, Contains Permitted Flavourings, Flavour Enhancers (E621, E635), Salt, Yeast Extract, Citric Acid, Caramel

All food additives used are from plant and synthetic origins. May contain traces of cereals containing gluten, eggs, milk, peanut and tree nuts.
Additional Information
Endorsed by Health Promotion Board as a healthier choice with lower sodium
Halal - Thailand
Key product information
Description
KNORR Rock Sugar Honey Sauce is a premium honey sauce specially designed for coating deep fried foods. Cooked from yellow rock sugar and honey, it gives food a perfect coating and an inviting sheen. Despite its thick consistency, it has a light aromatic sweetness. With this versatile base sauce, you can now create a variety of sauces without starting from scratch!
Packaging
Per carton (4 x 3 kg)
Container
Per piece (Bottle)
Usage information
Preparation
Honey Chicken (300g of chicken for servings of 5):
1. Heat 120g of KNORR Rock Sugar Honey Sauce in wok and add in fried chicken.
2. Cook over low heat and toss till sauce is caramelised and evenly coated over chicken.

Storage
Store in a cool and dry place. Refrigerate at 4-10°C after opening and do not freeze.