KNORR Concentrated Tamarind Sauce 1kg
9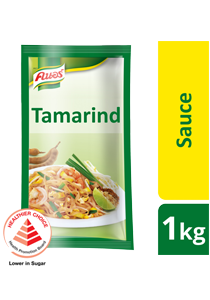 Consistent supply of tamarind flavour all year round
Ready to use sauce for labour saving and taste consistency
Made in Thailand, from real tamarind to deliver authentic taste
Healthier Choice Certified and no MSG added to support healthy dining
Versatile ingredient to help you create different local, Thai, fusion dishes, and even beverages
Packaging
Excluding 7% GST
All product information
Nutrition and allergens
No added MSG

Halal - Thailand

Endorsed by Health Promotion Board as a healthier choice with lower sugar
Ingredients and Allergen Information
Tamarind, Pineapple Pulp, Sugar, Modified Starch, Acidity Regulator (E331, E334), Preservatives (E202, E211), lodized Salt, Edible Gum, Flavouring and Calcium Disodium EDTA.
Allergen Information
Contains wheat and may contain traces of molluscs, sulphite and celery.
Additional Information
No added MSG
Halal - Thailand
Endorsed by Health Promotion Board as a healthier choice with lower sugar
Key product information
Description
Made from carefully selected real tamarind , KNORR Concentrated Tamarind Sauce consistently provides tamarind taste all year round.
Packaging
Per carton (9 x 1 kg)
Container
Per piece (Pouch)
Usage information
Benefits
Healthier Choice Symbol (Lower in Sugar)
Storage
Store in a cool and dry place. After opening, keep refrigerated for up to 4 weeks