KNORR Chicken Seasoning Powder 1kg
12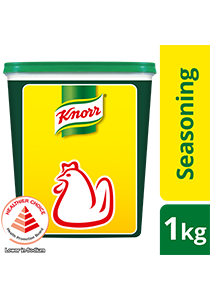 Highest real meat content, providing real value and quality in every dish
Endorsed by Health Promotion Board as a healthier choice with lower sodium*
No added preservatives
Delivers lasting taste, aroma and colour with acceptable level of micro count and sedimentation even after 5 days
Suitable for all types of cuisine and applications
Packaging
Excluding 7% GST
All product information
Nutrition and allergens
Halal - Malaysia

Endorsed by Health Promotion Board as a healthier choice with lower sodium

No added preservatives
Ingredients and Allergen Information
Salt, Maltodextrin, Flavour enhancer (E621, E635), Cornstarch, Sugar, Chicken Meat and Fat, Permitted flavouring (contains egg, soy), Soy sauce (contains Wheat), Palm fat, and Spice

All food additives used are from plant, animal and synthetic origin. May contain traces of cereal containing gluten, fish, milk, crustacean, mollusc, peanut and tree nut.
Additional Information
Halal - Malaysia
Endorsed by Health Promotion Board as a healthier choice with lower sodium
No added preservatives
Key product information
Description
With an improved formulation using quality real chicken meat, KNORR Chicken Seasoning Powder gives 42% more chicken taste* and aroma to better enhance the taste of your dishes. Perfect for use in stir-fry, soup, sauce or marinade applications to deliver well-balanced chicken umami and aroma.
Packaging
Per carton (6 x 1 kg)
Container
Per piece (Tub)
Usage information
Preparation
For Stock: Dissolve 12g of KNORR Chicken Seasoning Powder in 1L of boiling water.
For Stir-Fry & Marinade: Add 15g of KNORR Chicken Seasoning Powder to 1kg of meat, vegetables or cooked rice.

Storage
Close pack tightly and store in a cool and dry place.