KNORR Golden Salted Egg Powder 800g
24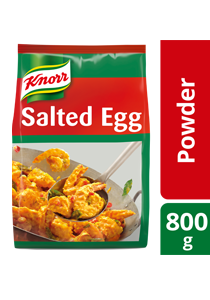 Made from real pasteurised egg yolks with no added MSG and preservatives
Consistent supply and pricing
Endorsed by the Health Promotion Board as a healthier choice with lower sodium*
Delivers lasting taste, aroma and colour for up to 5 days after cooking and storage
Packaging
Excluding 7% GST
All product information
Nutrition and allergens
Halal - Malaysia

Endorsed by Health Promotion Board as a healthier choice with lower sodium

No added preservatives

No added MSG
Ingredients and Allergen Information
Chicken Egg, Maltodextrin, Shortening Powder (Contains Milk Protein, Gluten), Yeast Extract, Creamer (Contains Milk Protein, Wheat), Flavourings (Contains Egg), Colourings

May contain traces of soy, fish, crustacean, mollusc, peanut and tree nuts.
Additional Information
Halal - Malaysia
Endorsed by Health Promotion Board as a healthier choice with lower sodium
No added preservatives
No added MSG
Key product information
Description
KNORR Golden Salted Egg Powder is a one-step dish base for salted egg dishes. We use real quality egg yolks and the latest drying technology to preserve their flavour, colour and aroma. Now, you can create scratch-quality salted egg dishes in just 1-step!
Packaging
Per carton (6 x 800 g)
Container
Per piece (Pouch)
Usage information
Preparation
Salted Egg Prawns (300g of prawn for servings of 5):
1. Heat up 50g of Planta Margarine.
2. Add in curry leaf and chilli.
3. Add in 35g of Golden Salted Egg Powder and stir over low heat.
4. Add in fried prawn and toss evenly.
Storage
Store in a cool and dry aplce. After opening, fold the bag, seal propoerly and keep refrigerated at 4-10°C.